Bottle Sizes
Although the 16.9 fl oz water bottle is our most popular size, we're also pleased to offer you 12 oz, 20 oz, and 33 oz bottles.
Here are several considerations when selecting a bottle size:
1) The event setting. Hot summer events typically call for a 16 oz or 20 oz bottle to keep participants hydrated, while cooler conditions draw smaller 12 oz bottles which fit nicely into a jacket pocket.
2) Cup holder compatibility. Car dealerships, gym owners, and fitness trainers should measure cup holders on equipment to ensure a good tight fit. 16.9 oz and 20 oz bottles fit nice and snug in most cup holders, whereas 12 oz bottles will fall out of cup holder with sudden movements.
3) Marketing - visibility & legs. You want your bottle to work for you and promote, promote, and promote some more. The 16.9 oz bottle is the best seller due to its large label panel area and refill ability.
The larger label means more visibility. Also, the 16.9 oz is a great size for the car and commonly taken to work and refilled from the bottled water cooler, thus giving your advertising more legs.
Cap Options
The classic all white sports cap works excellent with all labels, but our brightly colored caps commonly accentuate and lift your logo or text off the label. Colored and flat white caps are available at no extra charge.
Labels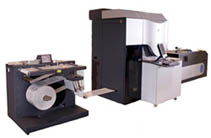 We're applying the highest-grade 4-color process printed labels on the market. Your labels will look vibrant, a near replica of your provided logo or photo. Printed on 100% waterproof polypropylene material, with a clear UV laminate makes your labels virtually indestructible. With 4-color process printing, different labels of the same size ordered collectively may be combined to achieve the higher quantity price break with a $20 stop press fee for each additional label added to the original order.