Bottle Sizes
Although the 16.9 fl oz water bottle is our most popular size, we're also pleased to offer you 12 oz, 20 oz, and 33 oz bottles.
Here are several considerations when selecting a bottle size:
1) The event setting. Hot summer events typically call for a 16 oz or 20 oz bottle to keep participants hydrated, while cooler conditions draw smaller 12 oz bottles which fit nicely into a jacket pocket.
2) Cup holder compatibility. Car dealerships, gym owners, and fitness trainers should measure cup holders on equipment to ensure a good tight fit. 16.9 oz and 20 oz bottles fit nice and snug in most cup holders, whereas 12 oz bottles will fall out of cup holder with sudden movements.
3) Marketing - visibility & legs. You want your bottle to work for you and promote, promote, and promote some more. The 16.9 oz bottle is the best seller due to its large label panel area and refill ability.
The larger label means more visibility. Also, the 16.9 oz is a great size for the car and commonly taken to work and refilled from the bottled water cooler, thus giving your advertising more legs.
Cap Options
The classic all white sports cap works excellent with all labels, but our brightly colored caps commonly accentuate and lift your logo or text off the label. Colored and flat white caps are available at no extra charge.
Labels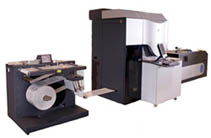 We're applying the highest-grade 4-color process printed labels on the market. Your labels will look vibrant, a near replica of your provided logo or photo. Printed on 100% waterproof polypropylene material, with a clear UV laminate makes your labels virtually indestructible. With 4-color process printing, different labels of the same size ordered collectively may be combined to achieve the higher quantity price break with a $20 stop press fee for each additional label added to the original order.
Utilizing HP SmartStream Mosaic and Collage you can now create virtually unlimited design variations for your company's water bottle labels. HP SmartStream Designer lets you create sophisticated, custom jobs through a simple and affordable variable data tool that creates unique, one of a kind images on every label. HP Mosaic automatically creates designs based on core patterns that you can create. HP Collage automatically creates designs based on combinations of basic elements using sophisticated rules-based variable data for text and images. Learn more, watch this short video https://www.youtube.com/watch?v=hg9x9hXnJZk
Label Saver Club
The Label Saver Club is a simple money saving option for customers who plan on re-ordering water bottles. This option typically saves customers a minimum of 45% on labels. The savings comes by ordering several water bottle orders worth of labels at one time. Water Specialties shelves your extra labels for future orders until you're ready, and you'll pay for the future water bottles as you order them.
Freight
Orders will be shipped out using the least expensive means possible via our trucks, FedEx, UPS, or Freight courier. Shipping costs will be clearly marked on each quote. Certain areas within Utah are delivered free of charge. Be sure to ask our representative if you have any questions or would like to will call your items.
Rush Orders
Our representatives excel under pressure and are happy to accommodate rush orders. If you're in a hurry, don't delay and contact us now.